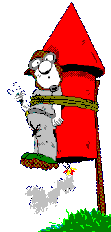 WORKING FOR NASA
(OR HOW I LEARNED TO LOVE SCIENCE AND ENGINEERING)

Senior Mechanical Designer
Key responsibilities-
Design of various Spacecraft, Balloon, and Sounding Rocket hardware along with the ground support equipment (GSE), in-house test equipment including high vacuum chambers and equipment, particle accelerator adapter hardware, and field experiments.
Workgroup-
The Laboratory for High Energy Astrophysics, Code 660 at the Goddard Space Flight Center in Greenbelt, Maryland
I spent a little over 39 years at the Goddard Space Flight Center's Laboratory for High Energy Astrophysics both as a contractor and a civil servant. From the day I arrived as a 21 year old, wet behind the ears, "youngster" it was one of the best jobs anyone interested in the Space Program could want. My boss weaned me away from the daily grind of the electronics drawings I was hired to draft and introduced me to mechanical design. As a person with no college experience and no training in engineering, it was not the easiest of concepts to get into. Obviously I adjusted to it and went on to have a career involving the design/fabrication/assembly/integration of mechanical components on over 50 flight programs without a single failure either during environmental testing or launch. They included the following:

The OGO series, OGO-B, D, E and F

IMP-F, G, H. AND I

PIONEER-10 AND 11

HELIOS-1 AND 2

ARIEL-5 OSO-I

VOYAGER-1 AND 2

ISEE-3 (later renamed ICE)

WIND/ELITE INSTRUMENT

ASTRO-1 SHUTTLE (BBXRT X-RAY MIRRORS AND MOTORIZED VALVE)

ASTRO-D (ASCA) * ASTRO-E

MOXE (Russian)

SWIFT BURST ALERT TELESCOPE (BAT)

GAMMA RAY IMAGING SPECTROMETER BALLOON (GRIS)

A NUMBER OF COSMIC RAY AND X-RAY BALLOON PAYLOADS

SOUNDING ROCKET EXPERIMENTS INCLUDING THE SN1987A SUPERNOVA CAMPAIGN

THE RAPIDLY MOVING TELESCOPE PROJECT (RMT) AT KITT PEAK

THE X-RAY CALIBRATION FACILITY DESIGN USED BY THE L.H.E.A. ROOF OF BUILDING 2 FOR X-RAY DETECTOR TESTING

In addition to flight hardware I was involved in the design of vacuum systems using all types of seals both metallic and nonmetallic, feedthru flanges, valves, accelerator components, and pumps. GSE hardware included dolly design to move spacecraft and balloon hardware around, shock mounted internally or padded shipping cases , panel design for electrical test racks, test chambers, flight vibration test adapters and so on. Besides old style hand drawings in 1985 we converted the design lab into a CAD group using AutoCad and then later progressed to ProEngineer 3D modeling and analysis software.
My original goal before I went to Goddard was to be a commercial artist but I took a job as a draftsman to get started in 1962 and ended up with a life long career I never dreamed of. I started as a contractor working on site in October 1963 and was converted to federal civil service in 1969. I retired from NASA in October, 1997.
Of all the flight projects I designed hardware for the ones that mean the most to me are the Pioneer 10,11 and Voyager 1,2 spacecraft. The Cosmic Ray Telescopes I designed for our Laboratory are leaving our solar system so in a sense a part of me is going with them into interstellar space perhaps to be retrieved by some alien race thousands of years from now.

Upon retirement from Goddard in 1997 I went to work for Swales Aerospace, Inc. in Beltsville, Maryland as a senior mechanical designer involved with numerous projects and the last was with the MIDEX project SWIFT doing the Burst Array Telescope (BAT) electronics enclosures design. The work was being done for NASA on contract so I was still working for NASA. Full circle...from contractor to contractor. In actuality, I was back working in the very office I left in 1997, working for the same people.

I retired permanently from Swales AND Goddard in December 2002 after 39 years and 3 months in basically the same office.
Havenít missed work one bit since I retired!


The Original Dogpatch Observatory in Greensboro, Md.

The New Dogpatch II Observatory in Easton, Md.

Telescopes and Stuff

Links (Astronomy, Electronics Suppliers, Cookbook sites, Software, etc.)
Updated Monday June 5, 2016